Collaboratory update July 2022 | Malaysia
News and updates from our Malaysian colleagues
29 July 2022
A large part of the Malaysia Collaboratory's work is focused on improving human-environment relations, helping people to live in better balance and harmony with nature. The 'Air Malaysia' webinar series hosted by the team is part of that work, designed to help create better environmental and water awareness and understanding amongst the people and communities living within the Johor River Basin.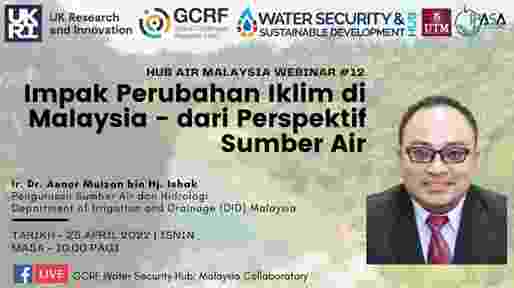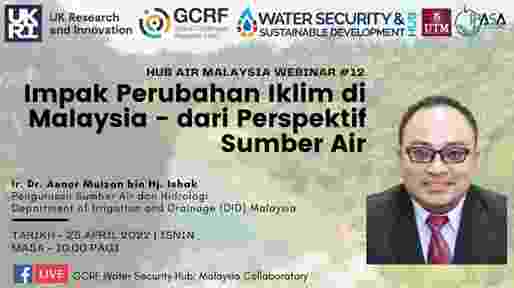 Tilted 'The Impact of Climate Change in Malaysia from Water Source Perspectives', the twelfth webinar in the series was led by Ir Dr Asnor Muizan Ishak from the Division of Hydrology and Water Resources, Department of Irrigation and Drainage (DID) Malaysia. During the webinar, Dr Asnor examined the difficulty of conducting comprehensive climate change attribution studies, and explored previous drought, flood, and water scarcity occurrences in Malaysia, including 55 days of water rationing experienced by 6.7 million people in Lembah Klang in 2014. Dr Asnor demonstrated the types of forecasts being used by DID for monitoring flood and extreme weather events, and also explained how for the National Water Balance Management System (NAWABS) they focus more on climatic time scales, a forecast that takes a longer time period and focuses on the general direction of the atmospheric state.
Dr Asnor then went on to emphasise several important steps in improving Malaysia's resilience to climate change. The integration of climate change adaptation in policy and guidelines is crucial to building resilience, including strategies on building with nature, making room for water, restoring beaches, and development for resilience. Improving the hydrometric network coverage and technologies in hydrological engineering practices, and further developing the flood and drought warning systems in place, are also highly important. Dr Asnor concluded that some of the most important actions in climate change adaptation and resilience are improving water management in cities and urban centres, both in terms of capturing water and increasing storage quantity, and improving water quality. As well as that, any future development must take water management into account - water must be put at the heart of decision making. (Watch the webinar here).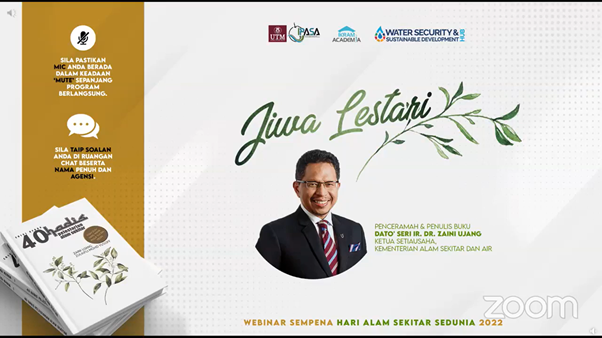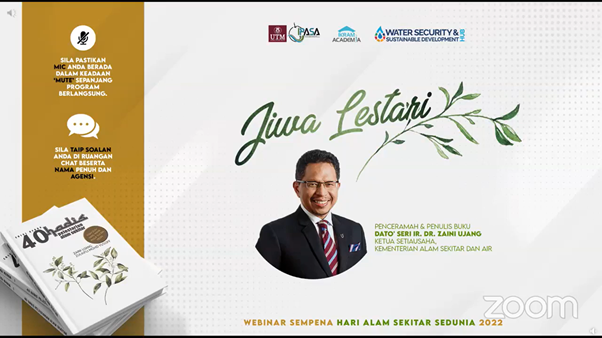 The theme for World Environment Day this year was 'Only One Earth', calling for transformative environmental change on a global scale. Amongst other Hub celebrations, the Malaysia Collaboratory hosted an online webinar to mark the day and help increase awareness amongst participants of the importance of preserving nature and the environment. Titled 'Jiwa Lestari', which translates to 'Sustainable Soul', the event featured discussions on the contents of the book 40 Hadith of Environmental Preservation, and drawing correlations to the current state of the environment in Malaysia. The book presents principles and practices from selected authentic and hasan hadiths in the context of contemporary environmental preservation, alongside scientific facts and empirical studies. (Watch the World Environment Day webinar here).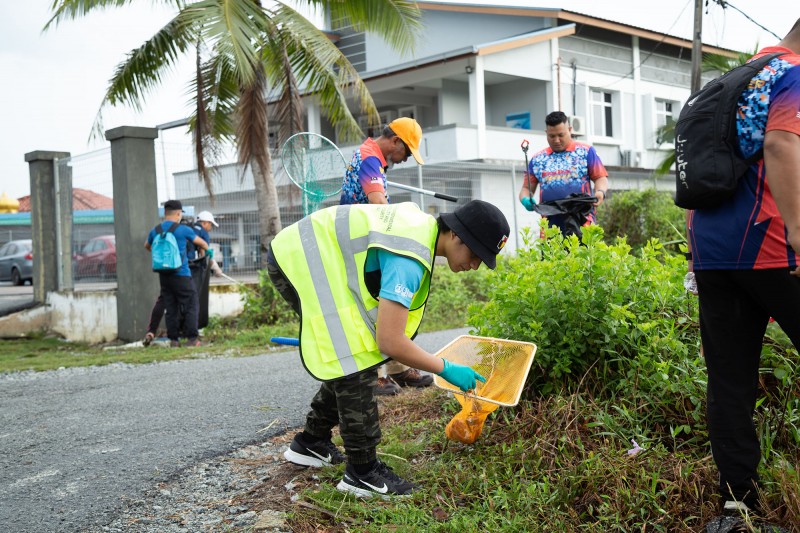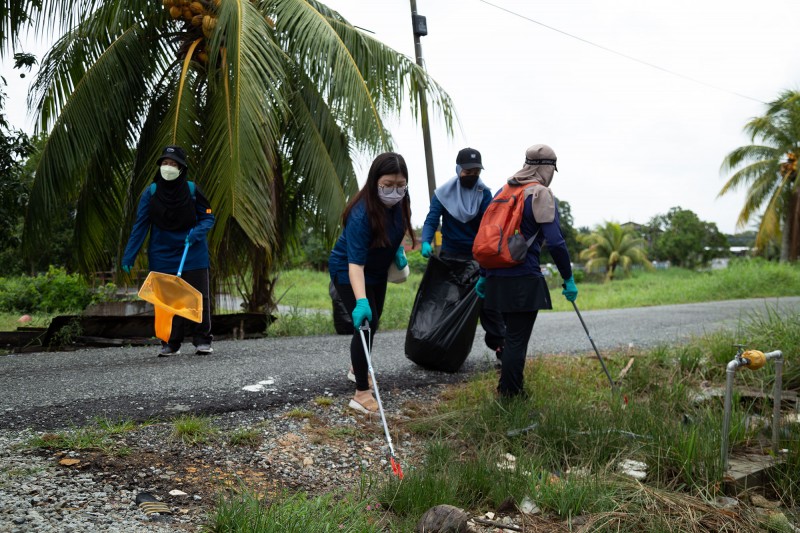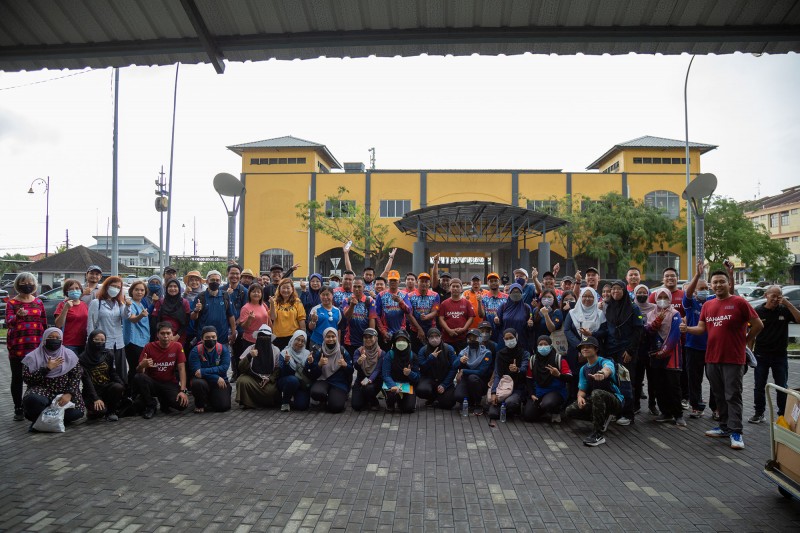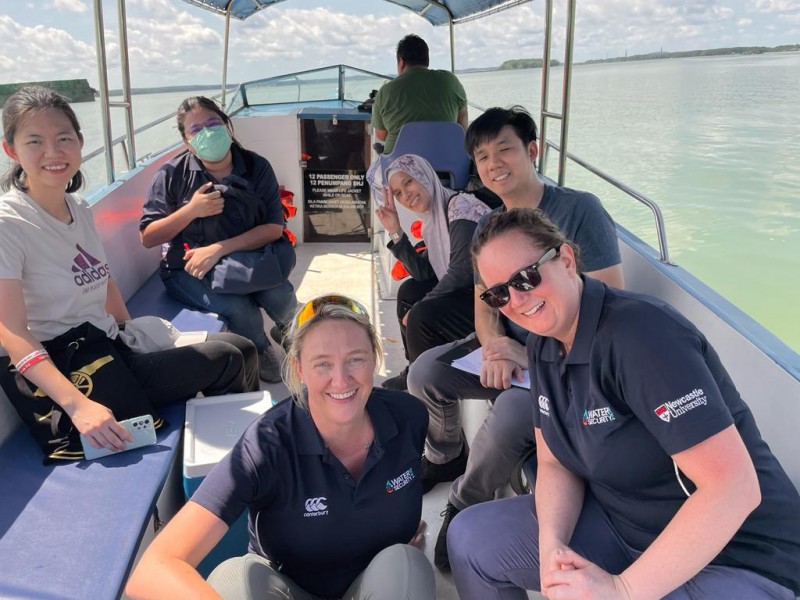 In collaboration with the Research Institute for Sustainable Environment (RISE), and Johor Corporation (JCorp), our colleagues at UTM held an additional World Environment Day event. Hub colleagues joined communities and residents from three villages in Kukup; Kampung Air Masin, Kampung Kukup Laut, and Kampung Benteng Kanan; on a 'rubbish and waste collection during exercise' programme. The event was a great success, and our Malaysia team hopes that taking part will have a long lasting impact on residents and villagers, helping them to be more aware of the impacts of waste on the environment, and encouraging them to be mindful and proactive in maintaining their local natural environments.
With restrictions lifted and international travel resuming, our global team has been able to come together for face-to-face work and research. Hub Research and Collaboratory Lead, Claire Walsh, recently visited our Malaysia Collaboratory, joining the water quality team for some sampling visits and fieldwork.
Finally, Dr Nor Eliza Alias of the UTM team is co-editor of a new book, Ecohydrology and Ecohydraulics Water Quality and Sediment Control, which presents a collection of studies. Ecohydrology is an interdisciplinary scientific field studying interactions between water and ecological systems, while ecohydraulics is the interaction of ecology and hydraulics. Managing, monitoring, and controlling water quality and sediment are major parts in reducing the impact of urbanisation and climate change in a river catchment. (Read more here).