Adapting to change in divine associations with water
World Water Day 2023: Accelerating change
14 March 2023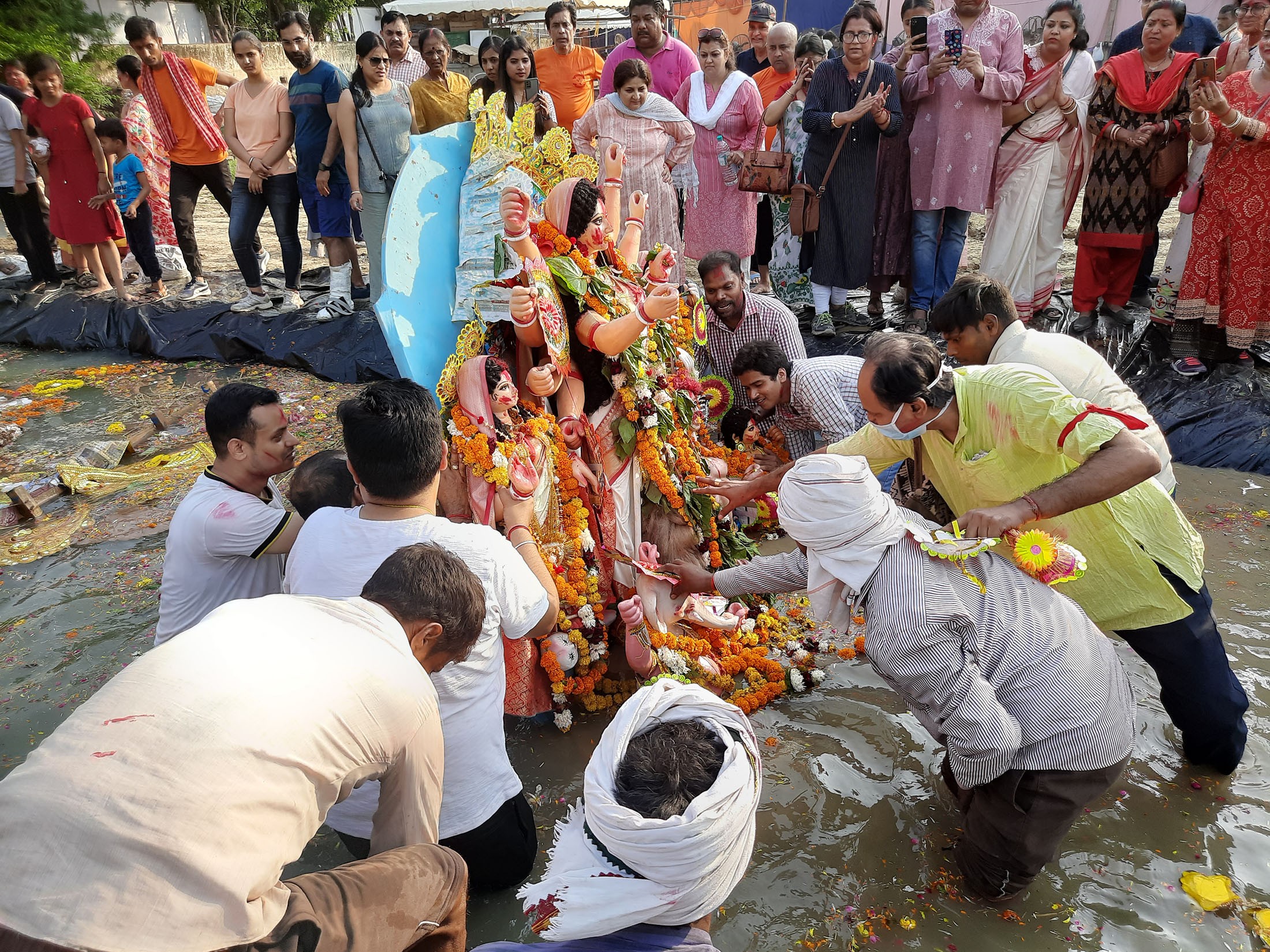 An idol of the Goddess Durga, carefully being held by worshippers before being immersed in an artificial pond in Delhi
"The change in divine association with water has started, but we still have a long way to go."
Authors: Prof Ashok Kumar, Prof Rabidyuti Biswas, Beenish Mushtaq, Radhika Modi
Water symbolizes purity in India. The association that people have with water is divine. Rivers and other water bodies are worshipped as they are believed to be sacred. The water values of religiosity and purity drive this association. The immersion of idols and other offerings to God in water bodies forms an integral part of religious beliefs in various cultures of India. Water bodies are the final abode for idols after being worshipped for a particular period.
One such festival is Durga Puja, a ten-day celebration of the Hindu Goddess Durga. Declared an Intangible Cultural Heritage of Humanity by UNESCO in 2021, the festival is celebrated with great rigour and enthusiasm across India. The immersion of the idol of Goddess Durga on the last day of the festival is an important part of the celebration.
Idol immersion generally takes place in rivers or large water bodies in India. Earlier, these idols were made in smaller numbers with biodegradable materials. Today, the materials used to make the idols are a mix of bio-degradable and non-biodegradable materials including chrome-based paints, cheap lead, and plastic sheets. These toxic materials cause extreme water pollution, in addition to the generation of solid waste from these idols as they are immersed (and disposed) into the rivers.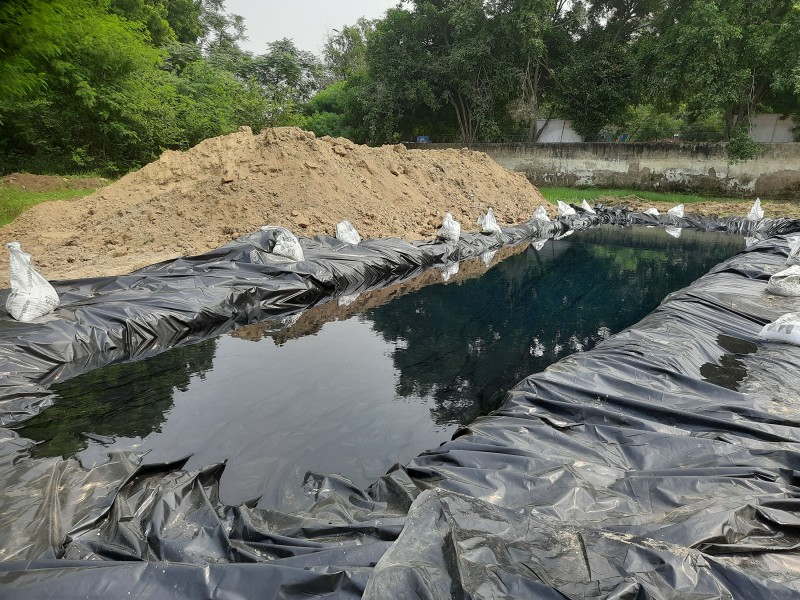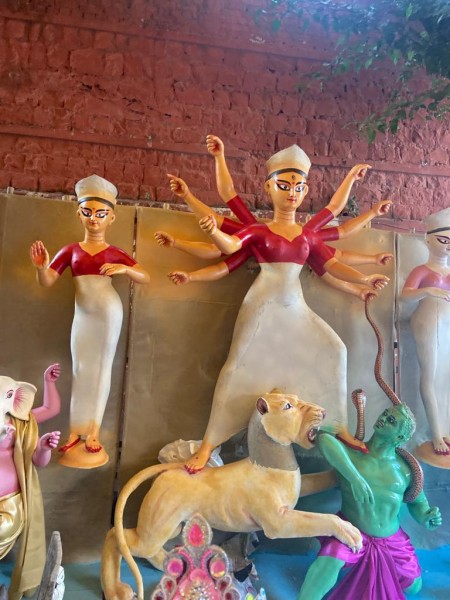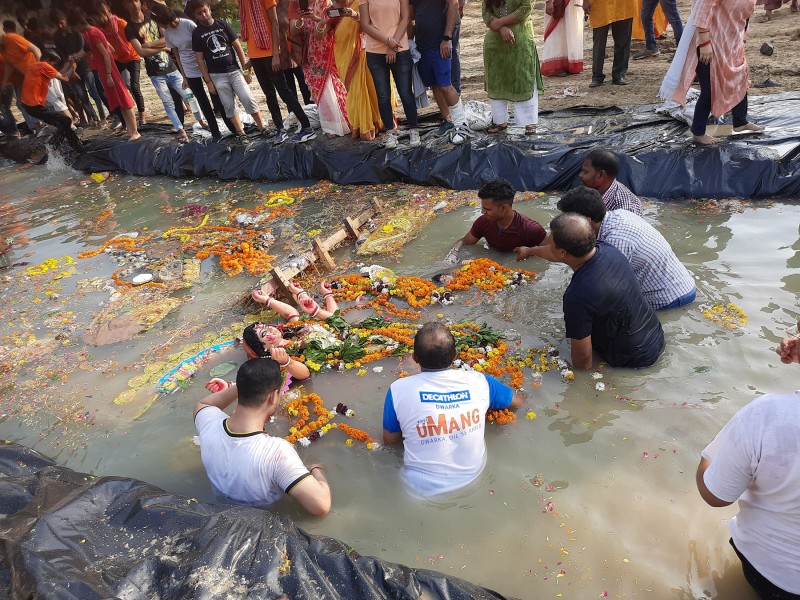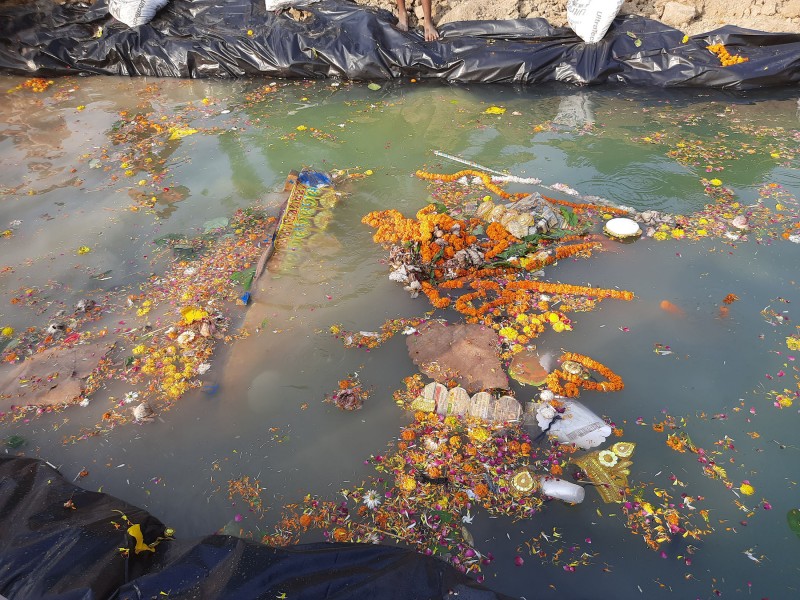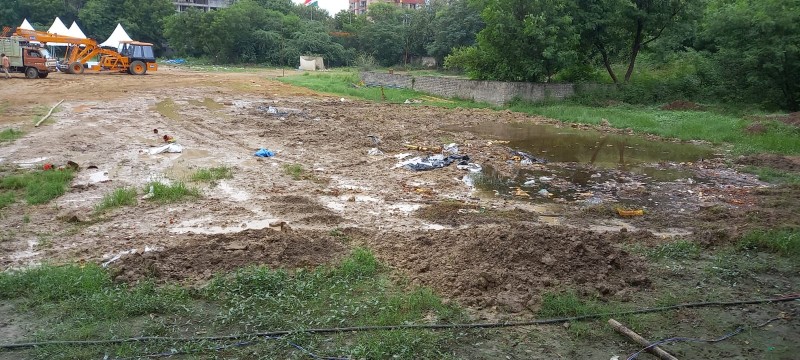 In Delhi, people immerse idols in the river Yamuna and other offerings to God in many religious festivals. Research shows that such religious activities contribute to the high pollution load in the river Yamuna.
As a result of this pollution, both the government and local communities have taken action. The government produced guidelines for the use of eco-friendly materials for idol making and directed citizens to immerse the idols only after removing insoluble materials like jewellery and flowers.
Previously, artisans blended clay and plaster of Paris with straw and applied it to the basic skeleton formed by bamboo. Once dry, clay was reapplied to give a smooth finish. The dried idols were then painted with synthetic colours and decorated with clothes, jewellery, and other decorative materials (made of thermocol (polystyrene)), which are non-biodegradable materials. Now, artisans use paints derived from natural colours and dyes and try to make the idol free from non-biodegradable materials.
The government has also imposed the polluter pays principle and banned idol immersion in river Yamuna. Since 2018, communities have been constructing artificial ponds for idol immersion at a neighbourhood-level in Delhi. The use of these ponds allows devotees to remain spiritually connected with water and reduce the pollution load in water bodies.
However, further research is required to quantify the benefits, as water used in artificial ponds seeps into the ground and may contaminate groundwater. Idols also generate huge quantities of solid waste that has to be properly collected and processed by the authorities.
We believe that further scientific interventions, along with necessary community awareness, are crucial to curb the menace of solid waste in artificial ponds and minimise contamination of groundwater. The change in divine association with water has started, but we still have a long way to go.