"Coffee Talks": an approach to engaging communities during the pandemic
Dr Neo Sau Mei and Dr Choong Weng Wai
07 December 2023
Aim of this method:
To promote a creative and ethnographic approach that reveals insider information through deeper conversation with stakeholders, more than just gathering surface data.
Introduction
This research method contribution demonstrates a creative qualitative approach, namely the "virtual coffee talk", to establish an innovative platform for stakeholder engagement through in-depth mutual dialogue.
The virtual coffee talk sparks discussion between the researchers and participants, not only helping the researchers in probing into hidden issues that are often ignored and overlooked, but also establishing a safer platform that allows for conversations and research activity to continue despite the COVID pandemic.
Defining this approach
A creative, flexible, informal participatory research approach to pinpoint the different perspectives of people living within an institution, culture, phenomenon or sector to facilitate the bottom-up understanding of a research problem, which will be useful to elicit and scrutinize sustainable solutions to global challenges concerned with social, economic, governance, ecosystem and environmental resilience.
Virtual coffee talks can be used to reach out to a variety of stakeholders such as governments, decision-making bodies, non-governmental institutions and community groups – everyone who is interested in contributing to sustainable solutions to a problem.
We previously conducted virtual coffee talks with community representatives. At the virtual coffee talks with them, we set up in a virtual café style by changing our background to a UTM café photo, as if we were all in the café, to generate a comfortable and informal environment. For each session, we engaged with only one village or community group to make sure they felt relaxed and free talking without the presence of outsiders. We began the talks with an introduction on water security and several questions for the participants. The same questions would then be asked at the next coffee talk, but with community representatives from different villages. At the end of the coffee talk, we gave each participant a voucher for them to get a real-life coffee for themselves, as a token of appreciation for their contribution, and to thank them for spending time with us.
Background to this method:
The idea of this research method has been introduced by Brown and Isaacs (2005) as the World Café method. It is designed as a public participatory tool for facilitating open and informal conversation with interviewees, especially community groups.
The World Café method has been widely used across a variety of settings, institutions and disciplines – in educational, academic and social studies, as well as entrepreneurial strategic development and planning, and consumer studies (Fouché & Light, 2010; Fullarton & Palermo, 2008; Chang & Chen, 2015; Ritch & Brennan, 2010).
As the popularity and adoption of the World Café concept has increased gradually over recent years, we adopted the ideology of this method, and modified it to apply to the phenomena, research issues and targeted respondent group of our case study. Hence, we arrived at the idea of virtual coffee talks as the research method that best suits our local context, as food is always a good conversation-starting topic in Malaysia!
The virtual coffee talk method is also inspired by key informant interviews, which involve people in small-scale interactions to generate and stimulate meaningful discussion in between researcher and interviewee. Through the process, the interviewee is more willing and ready to share more insights and insider information about a situation or issues that affect their area. The interviewee or key informants are those who have experience and capability in reflecting on specific topics or phenomena in their context. Significantly, key informants are not necessarily an elite category of individuals in an institution; they can be minor yet important groups of experts that provide prompt answers to research questions and conceptualize the research.
In the Johor River basin, we invited community representatives from different villages to share their perspectives and thoughts about water security issues. Most of the invited participants for each of the coffee talks were village headmen or gatekeepers, hence, they are key informants who act as representatives for their villagers, and who perform significant roles in resolving village disputes or conflicts. As such, they are good people to speak with in regard to water security concerns or challenges that already exist, or that are emerging in the village or the basin.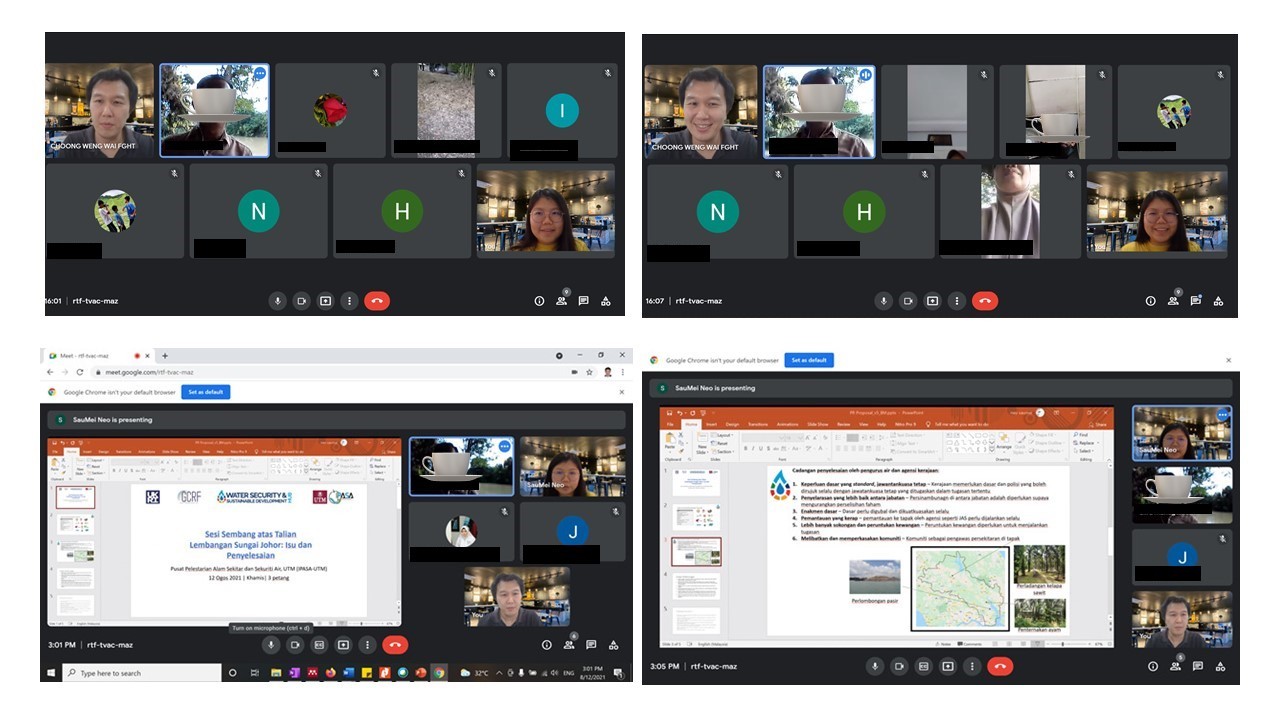 The researchers give a brief introduction, with information about the purpose of the virtual coffee talk, before participants and researchers engage in mutual dialogue. Image credit: Neo Sau Mei
Rationale behind the choice of this method:
As the Covid pandemic restricted movement and travel in places across the globe, it constrained the implementation of research activities, especially engagement and connection with stakeholders. Malaysia experienced another peak of case numbers in the Covid pandemic in mid-2021 which strained health facilities enormously. Instead of enforcing Movement Control Orders as previously implemented by states or phases, the Malaysian government imposed a total lockdown of the nation from 1st June 2021 onwards.
Under such circumstances, an online platform for virtual coffee talks is preferable, to replace conventional physical engagement with people, and to reduce the risk of infection among the stakeholders and researchers. Through coffee talks, the research team can resume engagement with our targeted participants - community representatives – through an online platform without exposing the research team and participants to additional danger. In contrast with the physical engagement activities that we scheduled prior to the pandemic, most community representatives are not familiar with online meeting apps, and some are restricted by variable internet accessibility in outlying areas. Therefore, we adopted a browser-based online meeting tool to ensure user-friendliness and gently reminded them to find a good spot with stable internet connection for a smoother and hassle-free engagement session. A great deal of coordination and communication works are needed between two parties, and this has eventually contributed to develop the trust relationships between the research team and communities.
Case Study – In Practice
A virtual café ambience creates a comfortable and neutral place where community members feel free to speak, and more willing to engage with the researcher in contributing to mutual dialogue and learning around a targeted scenario or topic. The virtual coffee talk method thus promotes an inclusive platform where researchers can obtain valuable data. Simultaneously, the participants - especially marginalized communities - can share their thoughts while connected to the thoughts of other stakeholders.
Preparing for Virtual Coffee Talks
Why use this method?

To enhance stakeholder engagement, particularly among community groups, by providing a more flexible and informal environment in which they can freely express their opinions and feelings.

To yield in-depth qualitative data about the background, culture and other phenomena of the case study area.

To build rapport, and establish and maintain relationships of trust with the community.

To gather and assess underpinning, hidden or confidential issues. To enable researchers to understand deeper insights and

inputs from people to address research questions.

To probe and understand this 'insider information' from different perspectives.

As an

alternative for in-person stakeholder engagement;

reduces the risk of Covid infection through online engagement with the community.
What areas of research is it appropriate for?
Virtual Coffee Talks could be used in multiple disciplines to investigate social, economic, or governance issues, ecosystems and environmental resilience, cultural aspects, and so on – as long as the nature of research is to explore the in-depth experiences of individuals and communities, and gather their opinions and information on a particular research issue. It could be of relevance for studies in anthropology, psychology, management and planning, institutional development and administration, and beyond.
The research team identified the main challenges and concerns in the Johor River basin, based on previous physical site observation and surveys, including river water pollution from poultry farm waste, oil palm plantations, and sand mining activities. Therefore, the main topic we discussed with the communities in the basin was existing and emerging water security issues, such as the value of water and rivers to them, their viewpoints on development along the basin, current river and water-related challenges and threats that the communities have encountered, riverine ecosystem and biodiversity restoration and sustainability, as well as water management.
Who could be involved?
Anyone can participate, regardless of their class, socioeconomic status occupation, gender, education, or background.

While community groups, especially vulnerable groups such as women and indigenous people at certain regions are often marginalized, this method is best suited to target them, by providing a flexible and informal platform for them to convey their voices.

In cases where individuals are introverted or shy, a small number of participants – ideally, one-to-one engagement, is preferable.
Practical and Ethical Considerations:
Several key ethical considerations need to be highlighted:
The researcher(s) should uphold confidentiality & privacy, protect the participants' anonymity, and avoid conflict and possible social justice issues.

Researchers need to gain consent from participants - participants must be informed of the details such as the research brief and the purpose of the study, as well as the participants' role in the study.

Allow participants to ask questions regarding the research.

Allow participants to withdraw from the research process at any time, whether during or after the research has taken place.
Summary:
The concept of the coffee talk has been developed with inspiration from the Café World and key informant interview methods.

The virtual coffee talk method is a creative method for engaging stakeholders, either one-one or one-to-many, especially in the light of the Covid pandemic, when people are restricted from travelling and meeting up physically.

This method can be applied in multiple disciplines.

Anyone can participate in a virtual coffee talk; they do not need special skills, as long as they are willing to share their thoughts and opinions.